Welcome to DRF's Handicapping 101 page!
Whether you're new horse racing or new to DRF, we're here to help you learn to read a DRF past performance and handicap the races.
Click links below to jump to each section
Don't hesitate to ask us anything about handicapping!
Learn to wager with our "Wagering 101 page!"
Access DRF PPs on your mobile phone!
What is a past performance?
- In horse racing, "past performance" refers to how a horse ran in previous races.
- Information on jockeys, trainers, date of races, where the horse finished, speed figures, odds and more help give handicappers a sense of history and information to make wagers.
- Horse racing handicappers study the past performance of each horse in a race, examining among other
things the combination of speed and endurance demonstrated in prior races and/or workouts

- Past performances are commonly referred to as PPs
DRF offers a few different types of PPs
For this exercise, we'll focus on DRF Classic PPs, our most popular PPs.

How to read a horse's past performances

Note: When opening cards on mobile phone, your initial view will be different.
Simply click element of the card to reveal the past performance features.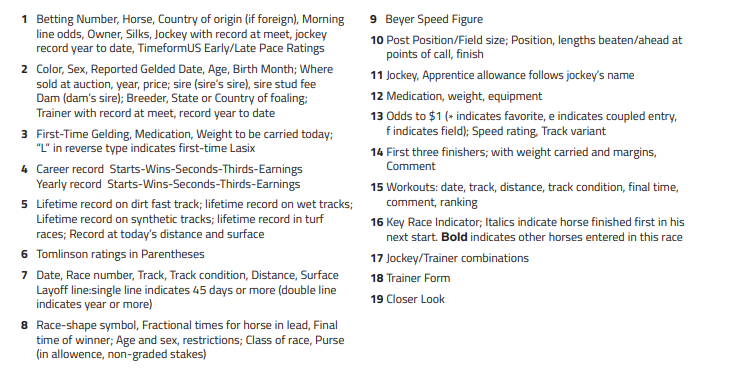 Elements of DRF PPs Explained
Race history (in order of appearances)
- A horse racing at regular and consistent intervals is probably fit. A horse that's been away for a while
may have physical issues. Be wary of betting these horses, as they could need a few races to get into top shape. The layoff lines in Daily Racing Form make it easy to spot a horse that's had more than 45 days between starts.
- Whether it's the top rider in the country or at your local track, the statistics in the past performances give you a better picture of the rider's ability. Current meet and year-to-date statistics follow the name of each jockey and trainer. Favor horses with jockeys that have been
winning with at least 10 percent to 15 percent of their mounts. Rider changes can provide insight on how a jockey sees a race. When a successful jockey has been riding two or more of the horses in the same race, he usually rides the horse he feels has the best chance to win.
- Trainers are like coaches. Once they establish a winning record, they usually have an edge in recruiting the most highly sought-after talent. And just like horses, trainers often have hot streaks. Most dependable trainers will fall somewhere in the 10 percent to 20 percent win range. As a general rule, avoid trainers who are winning at less than 10 percent. These days, it's not uncommon to see top trainers winning 30 percent of their races or more. Give extra special attention to horses trained by these conditioners.
Exclusive to DRF Classic and DRF Formulator PPs!

- Since making their published debut in 1992, Beyer Speed Figures have become the industry standard for evaluating Thoroughbred performance.
- Daily Racing Form's exclusive Beyer Speed Figures are perhaps the most powerful tool in helping you select a winner. They measure the speed of each horse, taking into account how fast the surface was on a given day. Beyer Figures allow the comparison of one horse's performance to another, regardless if they ran in different races, at different tracks, and even at different distances or on different surfaces. The Beyer scale runs from – 0 (slowest) to approximately 125.
Tips:
Green numbers = Beyer Speed Figures on turf
- Most horses develop a preferred running style. Some horses are "front-runners." They like to run on the lead or within a few lengths of the lead. Assessing horses' running styles is key to handicapping
a race. If there is only one horse that likes to race on or near the early lead he can often get away with an easy lead and have plenty of energy for the stretch run. If there are many horses with early
speed, they can establish a fast pace and tire late, setting it up for a closer.

- Check the workouts at the bottom of the past performances. If the horse has been working out regularly, he may already be fit, especially if he shows some "bullet" drills and comes from a top trainer. Also note a horse's prior performances after a layoff line. Horses often show a tendency
to run well or poorly off a layoff.
- The career box, in the upper right corner of the past performances, gives you the lowdown on the horse's lifetime accomplishments. For example, Hushion has raced 10 times total, winning 3 of those races, running second 1 times and third 2 times. His career earnings total $132,619.
- His lifetime best Beyer Speed Figure is 78. The career box also gives you information on a horse's record at the current track and distance he races at today, on a wet surface, and on turf. Some horses prefer certain distances, and others excel at certain racetracks. Compare these statistics to the rest of the field to help find the potential winner.
- DRF's expert handicappers analyze races and share their insights in the Closer Look section of the PPs. The Closer Look is there to help you digest the data and construct your wager.
- This exclusive pre-race analysis highlights horses and angles to help you learn the art of handicapping and picking winners. Closer Looks are particularly helpful in races with first-time starters, when detailed pedigree information is included.
Each horse's running lines tell you how a horse performed in his prior races. The first numbers are a horse's post position and the number of runners in that race. Next, there are several numbers indicating where a horse was positioned at various points in his previous race, usually in quarter-mile increments depending on the race distance. The next-to-last position is always the stretch call, charted at 1/8 of a mile from the finish. Finally, the last number in the running line tells you where he finished. The superscript numbers tell you how far back in horse-lengths (approximately 8-9 feet) a horse was from the leader at that particular call, if he was trailing, or by how many lengths he was leading.
Symbols and more definitions: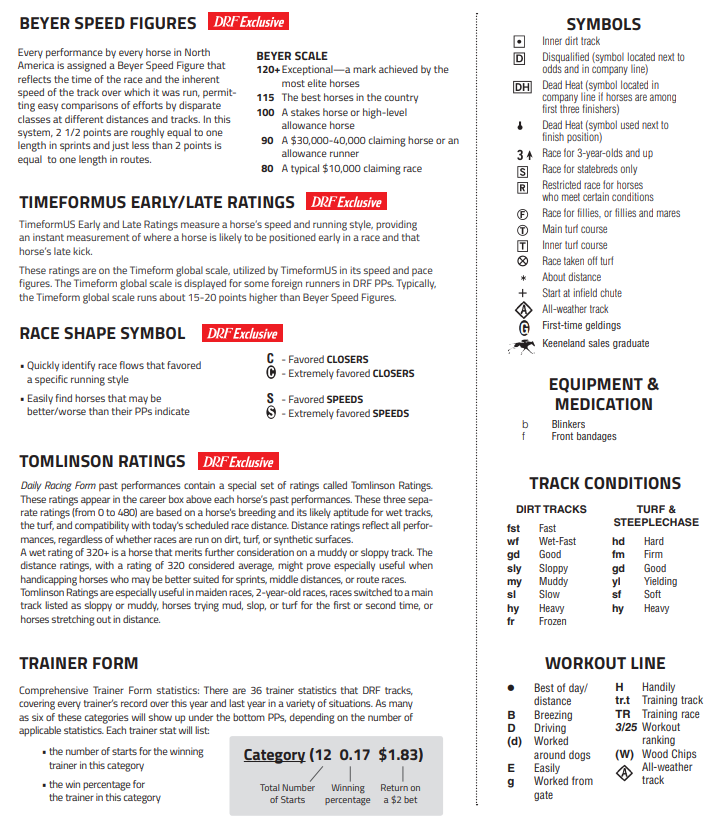 If you see any of these terms on DRF's entries page, these definitions will help you get up to speed!
Maiden Race
- A race exclusively for horses that have never won a race.

Claiming Race
- The most common of all races, stipulating a price (such as $25,000) for which any horse in the race may be purchased. In essence, the owners put their horses up for sale, knowing the horses may be claimed (bought) prior to the running of the race. When the starting gate springs open, a claimed horse becomes the property of the new owner, although any purse money earned in that race goes to the previous owner. Different claiming prices provide a point of reference to different class levels.
Allowance Race
- One step above lower-level claiming races, the conditions of eligibility are very similar except that the horses are not for sale. Allowance horses are often being prepared to compete in stakes events but are eligible for these "conditioned" races.
Stakes Race
- The highest class of race reserved for the best horses. Derived from the word "sweepstakes," and along with handicap races applies to the highest caliber of race offered. Owners typically pay an entry fee to nominate, enter, and run their horses. Handicap and stakes races offer the largest purses of all the various types of races.
Handicap Race
- A race for which weights have been assigned by the racing secretary after evaluating entrants' past performances. The idea is to burden the horses with the best records, and therefore improve the chances of the less-accomplished horses in the field.
This helpful glossary will make you the hit of your party and help you crush it at the track!
ACROSS THE BOARD
- A bet on a horse to win, place, and show. If the horse wins, the player collects three ways; if second, two ways; and if third, one way, losing the win and place bets.

ALSO-ELIGIBLE
- A horse officially entered, but not permitted to start unless the field is reduced by scratches below a specified number.

ALSO-RAN
- A horse who finishes out of the money.

APPRENTICE
- A novice jockey who has not yet ridden for a full year past his or her 35th winner, or some other time frame specified by a given state's racing rules. While jockeys serve their apprenticeship, they are accorded a 5-to 10-pound weight allowance, or reduction from
their respective weight assignments in all races except stakes. The slang term for an apprentice allowance or rider is "bug boy." The term comes from the asterisk that usually accompanies an apprentice rider's name in the entries.
BACKSTRETCH
- The straight area of the track between the turns. Also, the stable area.
BANDAGE
- Strips of cloth wound around the lower part of a horse's legs for support or protection
against injury.
BAR SHOE
- A horse shoe with a rear bar to protect an injured foot; bar shoes may be worn with
aluminum pads to protect a bruised frog, or may be worn alone.
BLANKET FINISH
- Horses finishing so closely together they could be "covered by a blanket."
BOX
- If you have two or more horses that you think will finish in the top spots, but your are not sure of the order, you can box them. Example: An exacta box on horses #3 and #6. You win if #3 wins and #6 places OR #6 wins and #3 places. The same method can be applied to boxing a trifecta or a superfecta.
BUG
- A weight allowance for an apprentice rider.
BULLET (WORKOUT)
The best time for each distance on the workout line for a given day, designated by a black dot.
BUTE (BUTAZOLIDIN)
- Trade name for phenylbutazone, an analgesic that is illegal to be administered within 48 hours of a race but allowed at threshold levels.
CALLER (OR CHART CALLER)
- One who calls the running positions of horses in a race.
CHALK (CHALK PLAYER)
- Horse favored in a race. Bettor who wagers on favorites.
CHECKED
- Description of a horse whose momentum is interrupted by its jockey for an instant
because the horse is cut off or in tight quarters. In terms of severity, from least to most, falls between "steadied" and "taken up."
CHUTE
- Extension of backstretch or homestretch to permit a straightaway run from start.
CLAIMING RACE
- Race in which horses are entered subject to being purchased for a specified price.
CLOCKER
- One who times workouts and races.
CLOSER
- A horse who runs best in the latter part of the race, coming from off the pace.
COLORS
- Racing silks (jacket and cap) worn by riders to denote the owner(s) of horse.
COLT
- Male horse under 5 years of age.
DAILY DOUBLE
- Type of wager calling for the selection of winners of two races.
DAM
- Mother of a horse.
DEAD HEAT
- Two or more horses finishing in a tie at the wire.
DISQUALIFICATION
- Change in order of finish by officials for an infraction of the rules.
DRIVING
- Strong urging by rider in stretch.
EASED
- A horse pulled up before the finish of a race, usually due to injury or fatigue.
ENTRY
- Two or more horses owned by the same stable or (in some cases) trained by the same trainer and thus running as a single betting unit.
EQUIPMENT
- Whip, blinkers, etc. Gear carried by a horse and/or rider in a race.
EQUIVALENT ODDS
- Mutuel price horses pay for each $1 bet.
EXACTA
- A wager in which the first two finishers in a race, in exact order of finish, must be picked.
FIELD
- The horses in a race.
FIELD HORSE (or MUTUEL FIELD)
- Two or more starters running as a single betting unit, when there are more entrants than
positions on the tote board.

FILLY
- Female horse age 4 or younger.
FIRM
- A condition of a turf course equivalent to fast on a dirt track.
FORMULATOR
- Premium Daily Racing Form past performances that allow players to customize statistical data.
FRACTIONAL TIME
- Intermediate time recorded in a race, as at the quarter, half, three-quarters, etc.
FRONT-RUNNER
- A horse who usually leads (or tries to lead) the field for as far as he can.
FURLONG
- One-eighth of a mile; 220 yards; 660 feet.
GATE
- Starting mechanism.
GELDING
- Castrated male horse.
GRADED RACE
- Races designated as most prestigious. Thoroughbred racing has Grade 1, 2, and 3 races.
HANDICAPPER
- One who assigns weights for handicap race. Also one who makes selections based on past performances.
HANDLE
- The total amount of money bet into wagering pool.
HEAD OF THE STRETCH
- Beginning of the straight run home.
HORSE
- An ungelded male horse 5 or older.
IN THE MONEY
- Finishing first, second, or third.
INQUIRY
- Reviewing the race to check into a possible infraction of the rules.
LASIX
- Term for a diuretic medication used in the treatment of bleeders.
LOCK
- Slang for a "sure-thing" winner.
MAIDEN
- A horse who has not won a race.
MAIDEN RACE
- A race for non-winners.
MARE
- Female horse 5 years old or older. Also, female of any age who has been bred.
MORNING LINE
- A linemaker's estimate of the final odds will be in a race, made before betting begins.
MUDDER
- A horse who races well on a muddy track.
NOSE
- Smallest advantage a horse can have at the finish.
OBJECTION
- Claim of foul lodged by rider. If lodged by a patrol judge or other official, it is called an inquiry.
ODDS-ON
- A horse whose odds are less than even money. A horse whose odds are 4-5 is said to be odds-on.
OFFICIAL
- Sign displayed when result is confirmed. Also a racing official.
ON THE BOARD
- Finishing among the first three; sometimes the first four.
ON THE NOSE
- Betting a horse to win only.
OVERLAY
- A horse going off at a higher price than he appears to warrant based on his past performances.
PACE
- Relative rate of early movement in a race, especially by the leader (setting the pace).
PADDOCK
- Structure or area where horses are saddled and kept before post time.
PARIMUTUEL PAYOFF

- The posted amount each bettor will receive for a winning mutuel ticket.
PAST PERFORMANCES
- A compilation of a horse's record, including all pertinent data, as a basis for handicapping.
PLACE
- Finished second in a race.
PLACE BET
- Wager on a horse to finish first or second.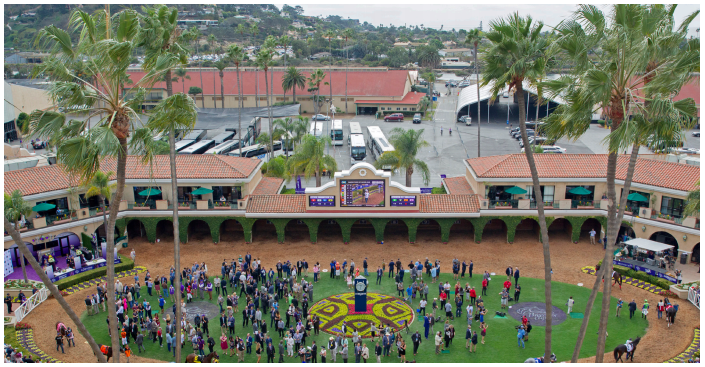 POST
- Starting point or position in starting gate.
POST PARADE
- Horses going from the paddock to starting gate, past the stands.
POST POSITION
- Position of stall in starting gate from which a horse starts.
POST TIME
- Designated time for a race to start.
PURSE
- Prize money distributed to owners.
QUARTER POLE
- Marker one-quarter-mile from the finish.
QUINELLA
- Wager in which the first two finishers must be picked, but payoff is made no matter which of the two wins and which runs second.
RACE CARD
- A full day's races at one track.
RIDDEN OUT
- Mild encouragement by rider in the stretch.
ROUTE
- Race at a distance of a mile or longer.
ROUTER
- Horse who performs well in distance races.
SADDLE CLOTH
- Cloth under the saddle on which a horses program number (and sometimes name) is displayed.
SCRATCH
- The withdrawal of a horse after the entries are announced but before post time.

SHADOW ROLL
- A lambswool-covered noseband positioned halfway up a horse's face to keep him from seeing shadows on the ground.
SHOW
- Finishing third in a race.
SHOW BET
- Wager on a horse to finish in the money; third or better.
SIMULCAST
- Televising a race to other tracks, OTB offices, or other outlets for the purpose of wagering.
SIRE
- Father of a horse.
SOFT
- Condition of a turf course that usually indicates the worst type of footing.
STARTING GATE
- Mechanical device having partitions (stalls) for horses in which they are confined until the starter releases the doors in front to begin the race.
STATEBRED
- A horse bred in a particular state and thus eligible to compete in races.
STEWARDS
- Track officials responsible for enforcing the rules.
STICK
- A jockey's whip.
STICKERS (MUD CAULKS)
- Caulks on shoes which give a horse better traction in mud or on soft tracks.
TAKEOUT
- The percentage of tax taken from each betting pool at the track and distributed according to state law among the state, horsemen (purses), and racetrack. On average, 17 percent is taken out of win, place, and show pools, with 83 percent returned to winning bettors.
TOUT
- One who gives tips on racehorses, usually with expectation of some personal reward in return; to give tips.
TOTE BOARD
- A computerized display with odds, time, payouts, and other race details.
TRIPLE CROWN
- A series of races comprised of the Kentucky Derby, Preakness Stakes, and Belmont Stakes.
TURF
- Grass. The most common racing surface in most of the world, excluding North America, where dirt is more popular.
WIRE
- The finish line. It's an imaginary line running between the poles.
YIELDING
- Condition of turf course between firm and soft
DRF Free Race of the Day PPs
Free DRF Formulator PPs for the featured Race of the Day. Handicapping tips and insights when you preview the Race of the Day with DRFTV.