Formulator is now available for FREE. Exclusively on DRF Bets.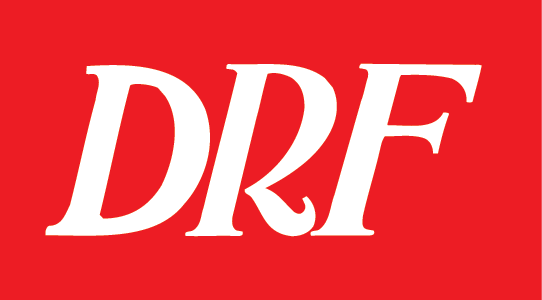 Take your handicapping to the next level with DRF's premium data
Customize Your Past Performances with these exclusive features:

Don't hesitate to ask us anything about our premium PPs!
Email us at cservice2@drf.com
Personalize your PPs with trip, race & card notes!
Click the "Notes" icon to take & access notes
Make your horse notes; save automatically to cloud
Allows trip handicappers to analyze past races!

Watch video of most North American races
Access via the horse's running lines

View full-screen

Standard/head-on views
Easily relate results back to the the PPs all on one screen (above the PPs)!
Full race details with written recap

One-click access via horse's running lines

Payouts for all wager

Multiple formats including Beyer Speed Figure view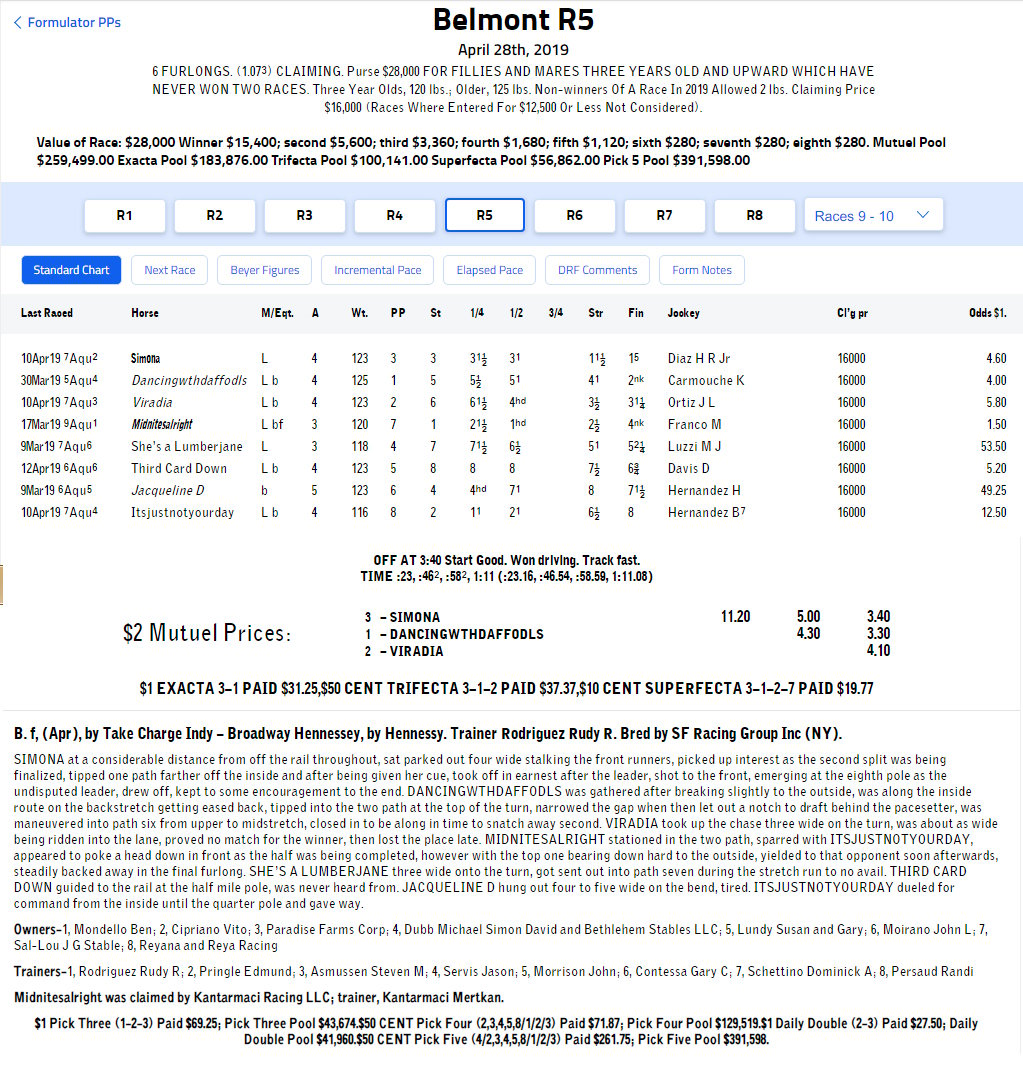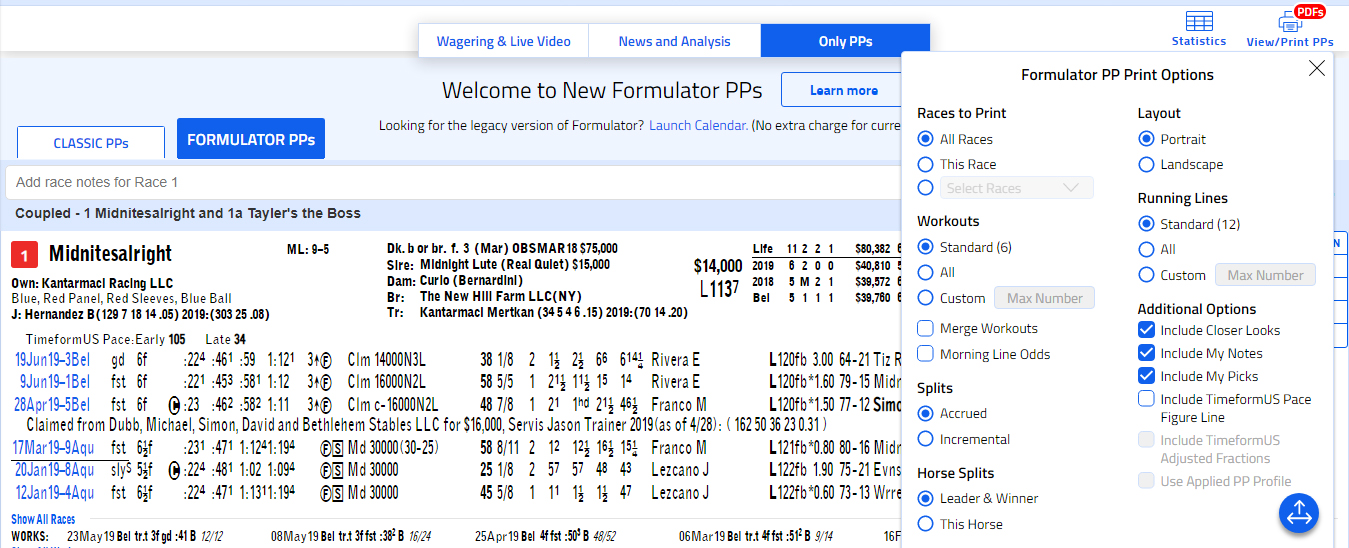 Print Closer Looks underneath running lines

Print your card, trip & horse notes

Print your picks above PPs

Choose number of running lines, workouts in PDF

Print your PPs without ads!
News articles and selections

Appear right above your PPs; never go back and forth or search the site again!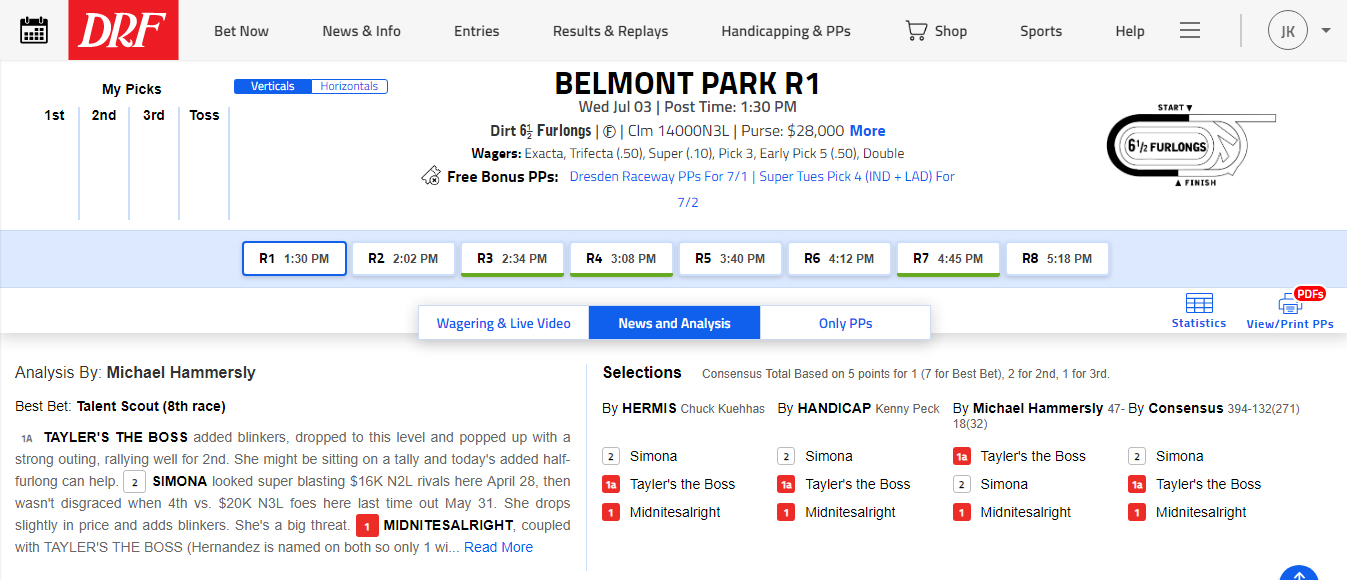 Race-related news articles right at the top of your PPs

Expert Selections also found at top of your PPs

Simply click the News and Analysis tab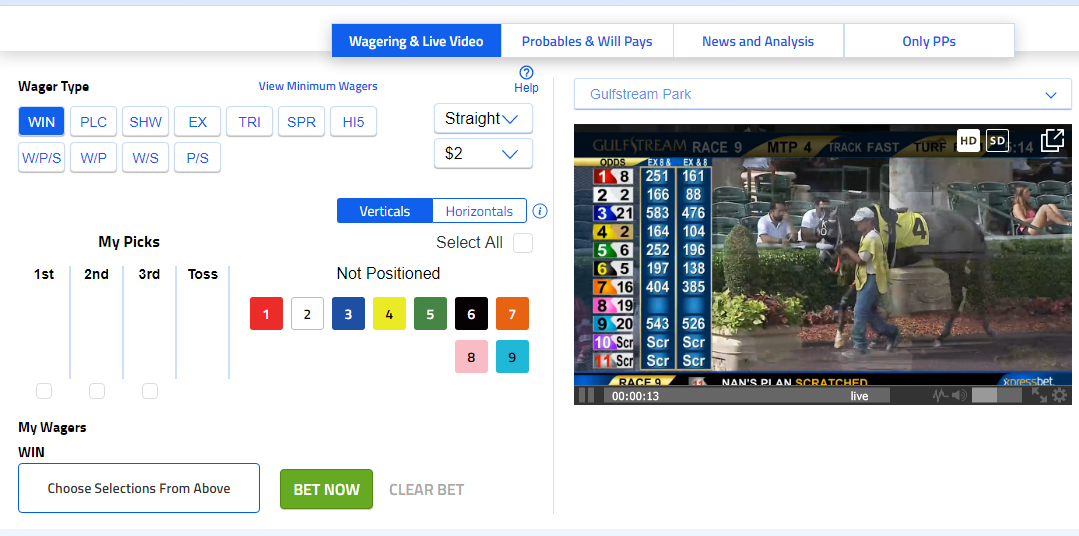 Log into your DRF Bets account to watch live race video

Always FREE

Place a wager directly from your PPs!
Pace Figures = speed figures for every fraction of a race

Quickly understand the totality of a horse's effort using these best-in-class Pace Figures

Color-coded red for hot-paced races and blue for slow-paced ra

ces
Read about TimeformUS Pace Figures

HERE


A great tool for handicappers in DRF Formulator PPs
Check out TimeformUS Pace Figures Q&A HERE
with David Aragona & Craig Milkowski
Watch how to use TimeformUS Pace Figures HERE
9 min. youtube video with Craig Milkowski
Watch TimeformUS and DRF handicappers use Pace Figures HERE
47 min. youtube video with Craig Milkowski
More helpful screenshots and tips HERE

Leader at each point of call:
1st quarter
2nd quarter
3rd quarter
Final time
The horse's PPs you are handicapping at the same points of call
Tip: Adjusted Fractions use the same color-coding as TimeformUS Pace Figures
Learn more about Adjusted Fractions HERE
See only what you want to see with filters and greyed-out text
A few things before we dive into filters:
1. By default, no filters are applied within your Formulator PPs.
This means that all information is visible in the PPs and "All" is
selected for each filter item.

2. To begin customizing, simply click the "Customize" button in your
Formulator PPs. For example, choose a filter to show running lines of
races that meet your needs. If you choose "Turf" from the "Surface"
menu, only those running lines of races run on turf are visible to you.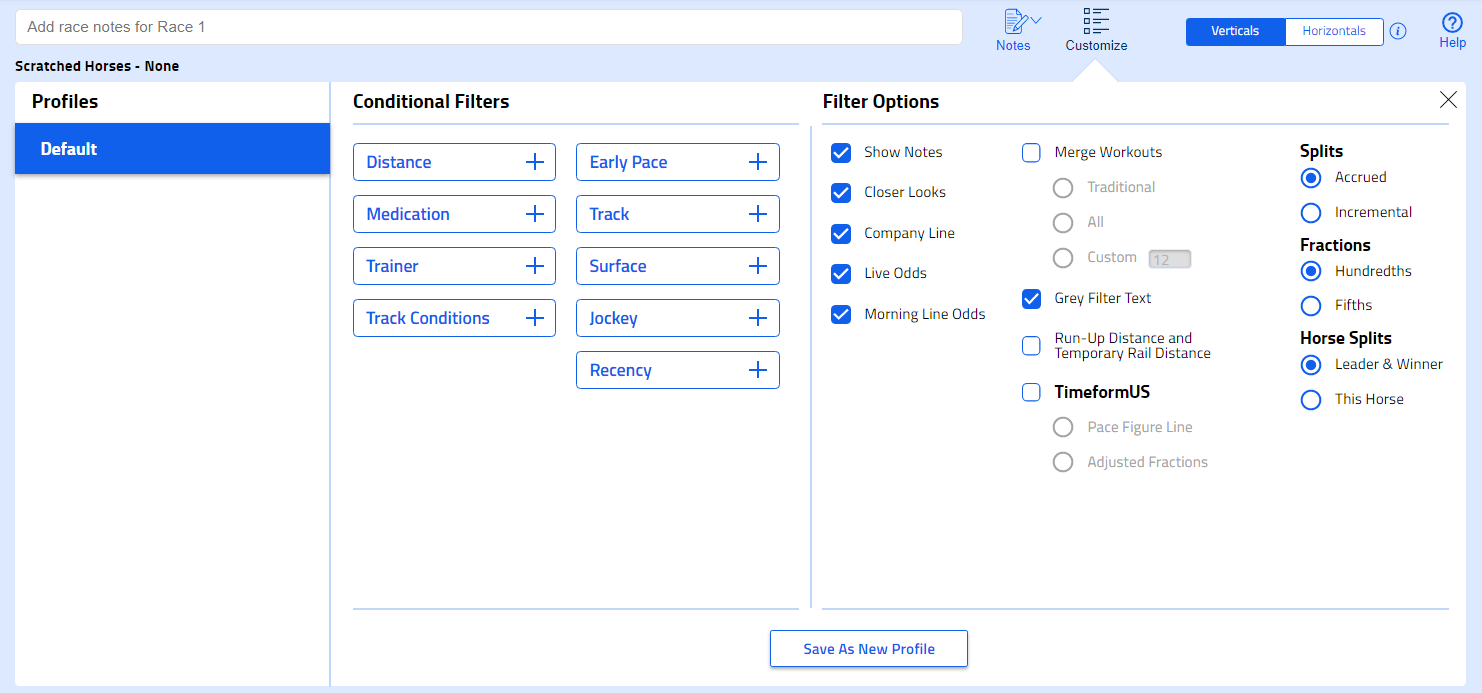 How customizing your PPs with DRF Formulator can help you handicap:
Filtering your Past Performances
Formulator PPs allow you to view the past performances the way you want to view them. You can merge workouts and notes into your PPs. You can scratch and hide horses, show times in fifths or hundredths, show incremental splits or individual horse times. You can even toggle on and off between Closer Looks and Company Lines!

You can also view lifetime past performances, or choose to see just a set number of previous running lines. Easily adjust the size of the PPs and charts to fit your computer screen.
The screen shot above shows you all the options you have when viewing your Past Performances. A check next to the feature means that you want to utilize that feature. For example, a check next to "Merge Workouts" means you want a horse's workouts merged into the running lines of his past performances. Below is some more detail on each option:
• Merge Workouts
View workouts interspersed within running lines by checking "Merge Workouts" from the "Customize" button in your Formulator PPs. The workouts are merged in chronological order.
By default, workouts are shown at the bottom of the Past Performance. When workouts are merged with running lines, they appear in green.
By merging workouts, you get a chronological view of a horse's activity and insight into the trainer's methodology.


• Closer Looks
You can choose not to view the Closer Look on the PPs page. The Closer Look is the text analysis of each horse. In the newspaper version of the Daily Racing Form, the Closer Look is to the right of the Past Performances. In Formulator, the Closer Look appears at the bottom of each horse's past performances, under the Trainer Form statistics.


• Company Line
You can choose not to view company lines on the PPs page. The company line is that portion of the running line that shows the first three finishers, weights, and margins


• Show Notes
You can choose to insert your personal notes into your Formulator PPs. Race, Card, and Trip Notes will appear beneath each applicable running line, while Horse Notes will appear below the Trainer Form.

• TimeformUS Pace Figures
DRF is proud to feature the best pace figures available anywhere within Formulator, the TimeformUS Pace figures. Once activated, you will see two new sets of data in the running lines. The first set of figures below the sectional times are for the pace of the entire race; the second set is for the individual horse. Pace figs color coded blue indicate a slower pace while red indicates faster. The pace figures are on the international Timeform scale.
For a complete description of how to use these figures, please visit the TimeformUS.com
• Incremental Splits
By default, Formulator PPs show elapsed times for the horse in the lead. To change the elapsed race time of a running line to incremental splits, click "Incremental Splits" in the View dropdown menu on the Past Performance.


• This Horse
By default, Formulator PPs show times for the horse in the lead and the final time for the winner. To change the race time from the race leaders at each point of call to the horse you are currently viewing, click "This Horse" in the Filter Options section on the Customize Menu.
You can also change this setting in your Profile Settings, under the "Past Performance" and "Pace" tabs.


Choosing running lines to display (available in the "Filters" tab)
You can exclude running lines displayed in Formulator PPs by filtering those conditions that are not interesting to you.

Note: You can also choose to gray the text that is filtered. For example, if you are most interested in jockeys racing today, but want to see them in the context of all jockeys, you can gray the text for all jockeys other than those racing today. To do so, first select Jockey and then Today's from the Filters tab. Then select "Gray Filtered Text" from the "View" tab.


Choose any combination of the following:
• Distance to selectively view running lines by Sprint, Route, Today's Distance, or Today's Plus
• Surface to selectively view running lines by Turf, Dirt or Synthetic
• Track Conditions to selectively view running lines by Fast/Firm or Off-Track
• Recency to selectively view running lines Within 15 Days, Within 30 Days, Within 45 Days, Within 60 Days, or Within 90 Days
• Medication to selectively view running lines by Today's Lasix, Bute, or Lasix & Bute
• Early Pace to selectively view running lines by On The Lead (first two calls) or Within Two Lengths (first two calls)
• Jockey to selectively view all jockeys or jockeys racing today
• Trainer to selectively view all trainers or trainers with horses racing today
• Track & Surface to selectively view all tracks or tracks at which races are taking place today
Conditional Filtered Explored

Add filters to give you the power to create the card YOU want!

Only DRF's premium PPs put you in the driver's seat allowing you to customize:
Distance: Sprints | Routes | By Furlong
Track Conditions: All | Fast/Firm | Wet
Early Pace: All | Race on the Lead | Raced with 2 Lengths
Track: All | Today's Track | Today's Track & Surface
Surface: Turf | Dirt | Synthetic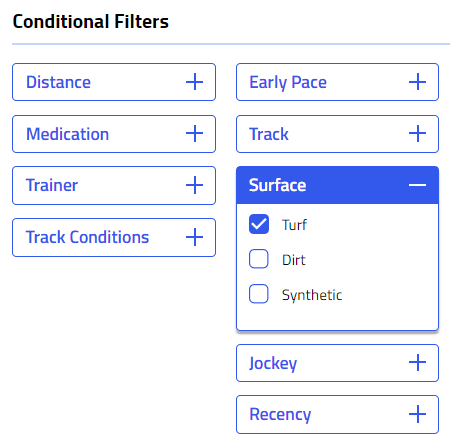 Trainer Patterns Tool in DRF Formulator PPs
When handicapping a race, it is very useful to investigate a trainer's history in a similar race. For example, does the trainer excel in cheap claiming races on dirt only? To find out, click on a trainer's name, highlighted in blue text, in the top portion of your PPs. DRF Formulator PPs display the entirety of the trainers' training records, providing both the trainer's statistics and the actual performance profiles for the individual horses trained.


This powerful feature enables you to perform in-depth analyses of a trainer's patterns. You can create custom queries about a specific trainer history and tendencies, and view both summary level and detailed results for the query. You can also browse through the PPs of all the horses in a trainer's stable, and use filters to isolate specific horses and to identify patterns.

Accessing Trainer Patterns
To launch the Trainer Patterns Tool, click a trainer's name while looking at the past performances (the trainer's name will appear in blue text). This will take you to the Trainer Pattern page, with statistics appearing based on your filters.

The top line of the Trainer Patters page displays the lifetime statistics of the trainer:

Horses - The number of horses included in the current query.
Starts - The number of starts for this trainer.
Wins - The number of times this trainer has won.
Win % - The percentage of times this trainer has won.
ITM - The number of times this trainer has finished in the money.
ITM % - The percentage of times this trainer has finished in the money.
$2 ROI - The average return on investment per two dollars wagered on this trainer.
Average Payoff - The average payoff of all winning finishes. This field can be used to determine if any payoffs have skewed the ROI.

Modifying Filters
The default Trainer Patterns setting will show the above statistics for every one of that trainer's starts in the past five years. To filter these statistics, click on the "Modify Filters" button in the top right of the navigation bar.
The Modify Filters dialog box enables you to completely customize what statistics you want Formulator to show you. Once you have specified your query options, Formulator provides you with the statistics you requested for that trainer, as well as the relevant Performance Profiles for the horses in the trainer's stable that meet the specified criteria.
After modifying the filters to your desired selection, click "OK" to view that particular trainer's stats under the circumstances you have selected.
There are three types of Modifying Filters – Basic horse and trainer filters, race categories and range filters, and track/jockey filters.
To begin, simply click the trainer, as highlighted below: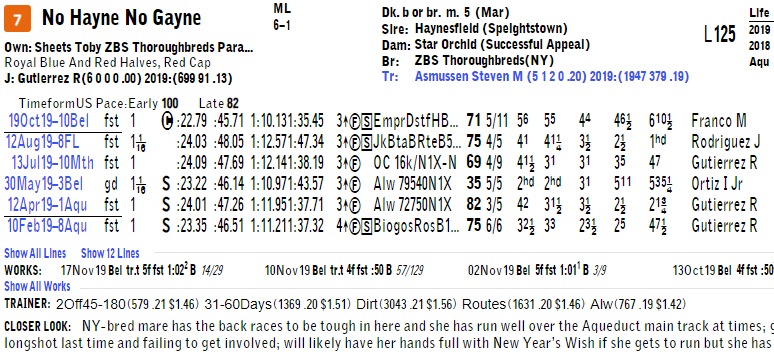 Don't hesitate to ask us anything about our new premium PPs!
Email us at cservice2@drf.com
DRF's Race of the Day:

Try DRF Formulator PPs FREE!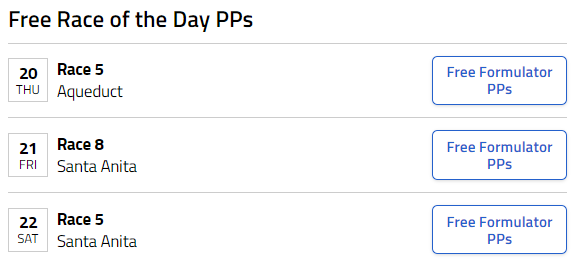 Merge workouts to get a sense of your horse's ready-of-a-layoff.
Perfect for getting a chronological view of recent activity to help you spot patterns!

A sensible new tool in your DRF Classic and Formulator PPs to help you make more informed wagers!
In a 20,000 race study, DRF's projected odds outperformed both live and ML odds!

vs. Live Odds: Projected Odds were a more accurate predictor of final odds 70% of the time
(Live Odds were accurate 30% of the time)
vs. Morning Line (ML) Odds: Projected Odds were a more accurate predictor of final odds 75% of the time (ML Odds were accurate 25% of the time)

Simply put: Projected odds are more accurate and the smart choice when
making your wagers.
How Projected Odds Work:
As soon as betting pools open for a race, until 10 MTP, we use an algorithm that relies primarily on the Daily Double pool

At 10 MTP, shorter-priced horses' odds are further enhanced, combining the earlier projection with the latest updates from the win pool

Even at 5 MTP, projected odds are far more predictive than the current live odds

Recently added to new DRF Formulator PPs!
Access faster than ever before:
• PPs of siblings for today's runners
• Top progeny by the sire for today's runners

How to access:
1. Choose any DRF Formulator card
2. Click on a dam's name in the PPs: you now have easy access to this horse's sibling PPs (domestic only); sorted by top career Beyer Speed Figures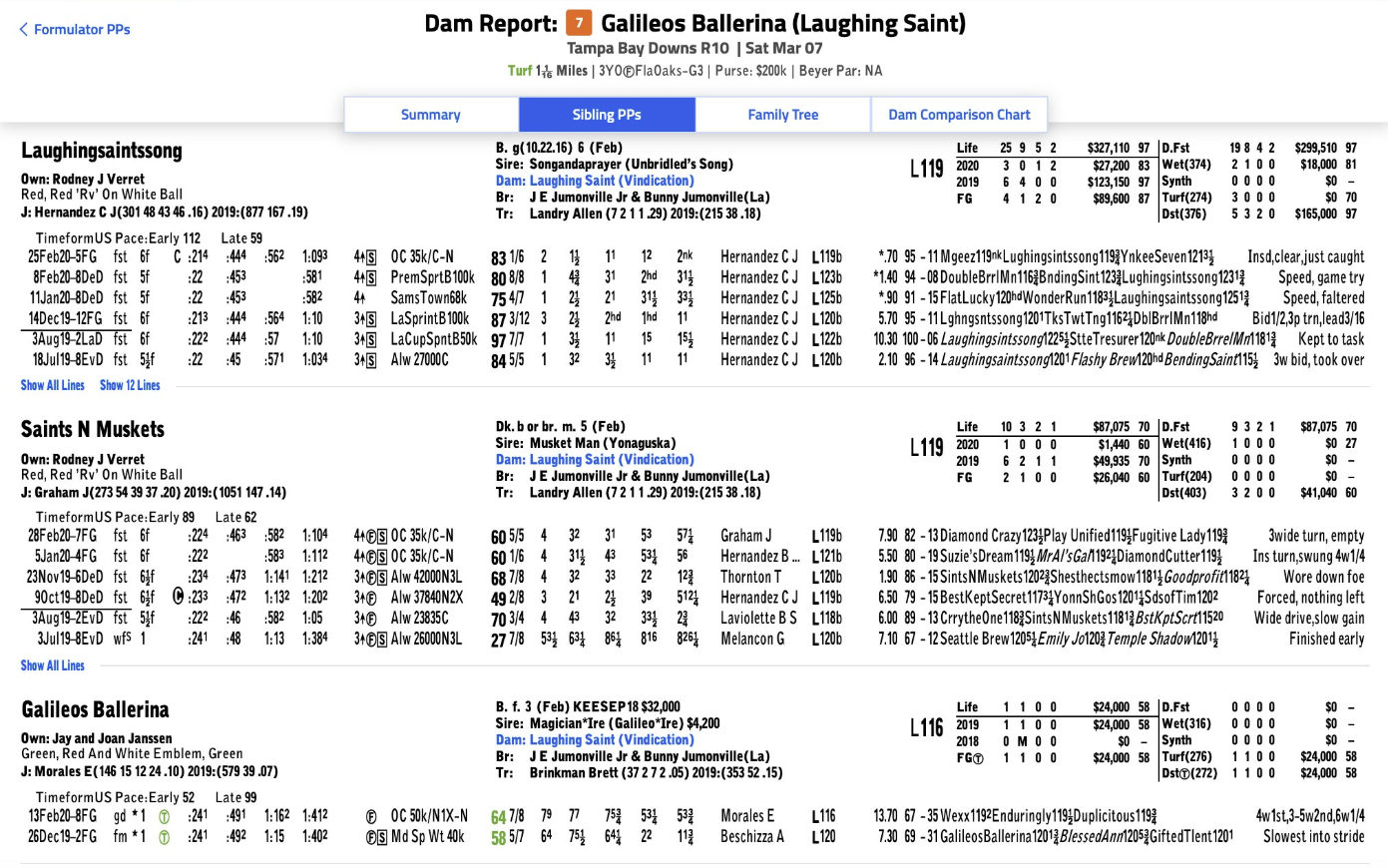 Next, dive into related PPs on the sire-side:
1. Click on the sire's name above today's runner's PPs
2. You now have access to the PPs of the top 20 domestic progeny by sire, sorted by top career Beyer Speed Figure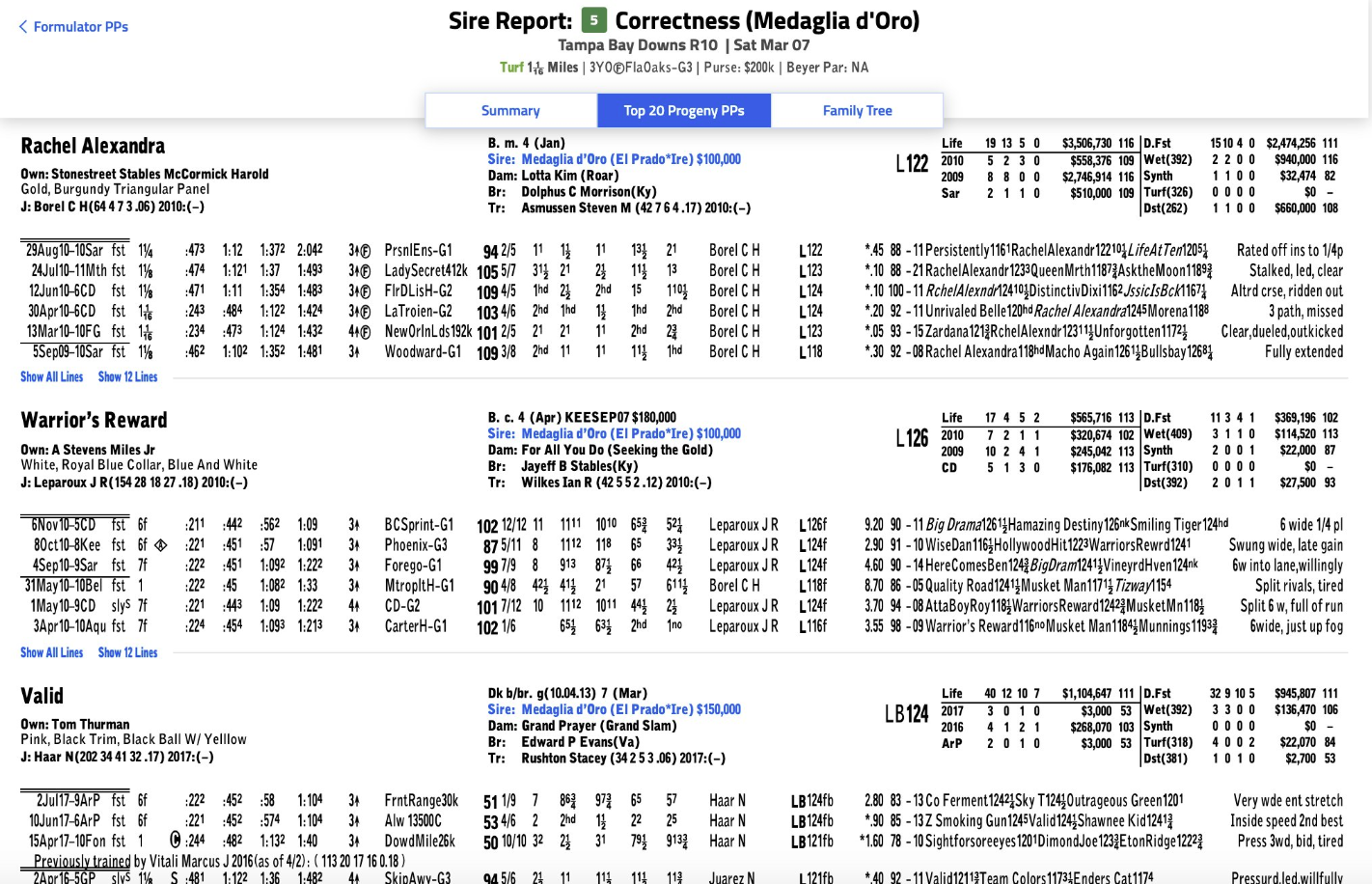 Both sire and dam's family are summarized in easy-to-use tables. We also offer a dam comparison chart.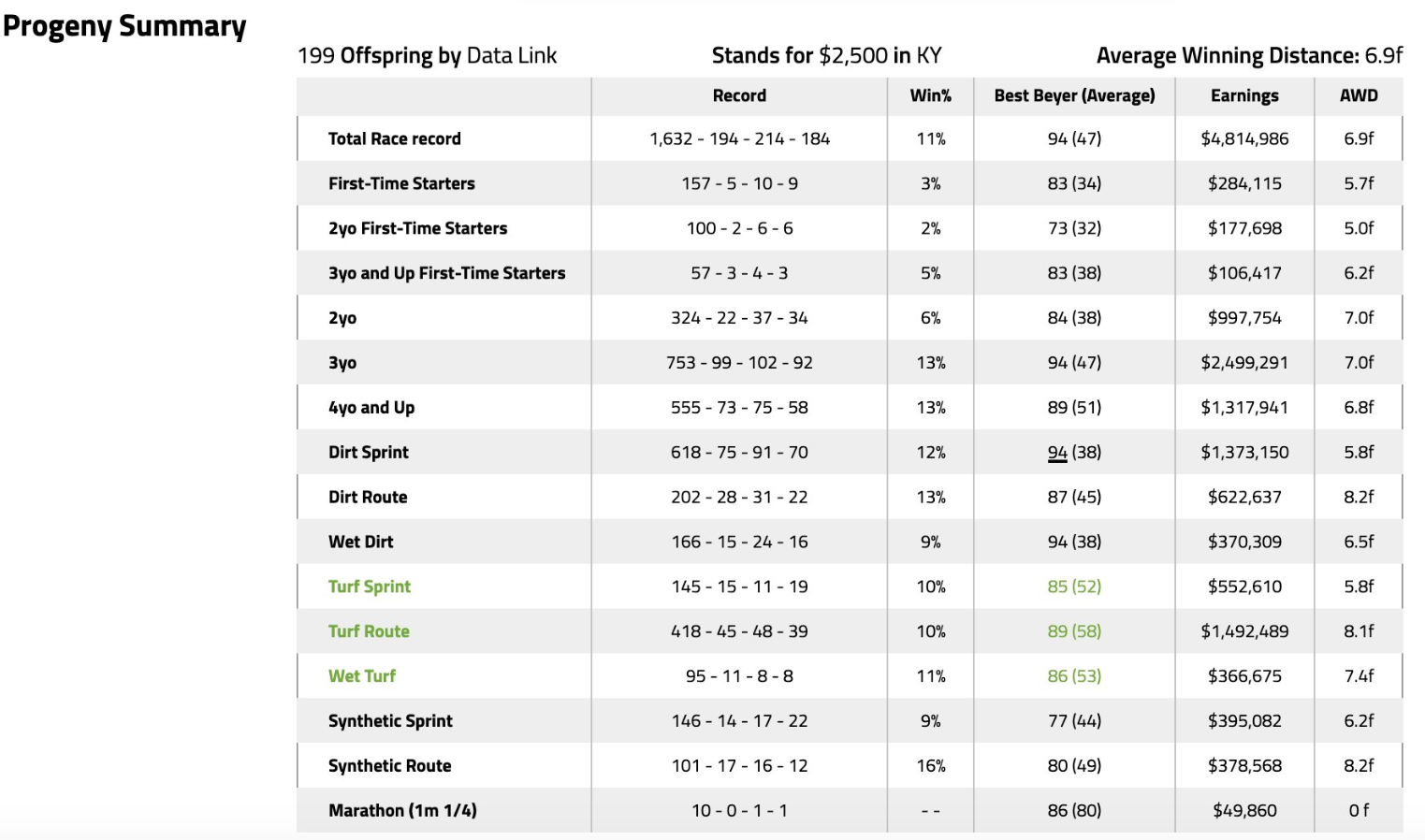 Access Race Chart archives with just a few simple steps from any PP.
Click Race Chart Archive, choose your date, track and race number.